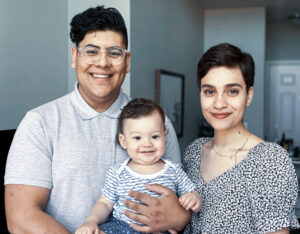 We welcome our new pastoral family to FUMC at Fort Stockton.


Efrain is a pastor with great enthusiasm for people and full of energy. Graduated from Garrett Evangelical Theological Seminary in Chicago, IL., where he got his Masters' Degree in Divinities. He has been serving God for the past ten years, is always involved in church planting, young adult ministries, and outreach programs around both Mexico and the USA. One of his hobbies is cooking and spending time with his family. Efrain is married to Abigail, whose passion is to accompany new mothers in their breastfeeding journey as a Lactation Consultant.
Efrain and Abigail are parents of an adorable one-year-old named Luka. As the Belmontes family has a great heart for the missions, together they are founders EstandArte, a ministry in Cd. Juarez, Mexico, that serves children and youth while seeking the spiritual, economic, and physical well-being of the whole community.
Efrain and Abigail enjoy raising Luka, trying new food, and they look forward to meeting you all when you visit us.
CHILDREN'S MINISTRY DIRECTOR
OFFICE MANAGER
If you call the church, there's a good chance that the cheerful, friendly voice you hear is that of Christina Duarte. She has recently come on as the administrative assistant. She has served many roles in the community of Fort Stockton in the schools and business world. She loves people and would love to serve you or help answer any questions you may have.
Toni has been serving our congregation for 15+ years. Her love and care for our children has been a blessing for all families who attend Sunday school and services through the years.