In the end, there's only one thing that truly matters, it's knowing God and having a relationship with Him. John Wesley expressed this matter in terms that still ring out how important it is. He said:
"I want to know one thing, the way to heaven; how to land safe on that happy shore. God Himself has condescended to teach the way; for this end He came from heaven. He hath written it down in a book. Give me that book! At any price give me the Book of God!"
You see whether or not we spend eternity with God depends completely upon our relationship with God. The Bible tells us the reason we need the problems and the remedy for it.
1. The problem. Every person who comes into this world has a huge problem because we are sinners. We come into the world as sinners. Sin simply means we disobey God and fail to keep His commands. For example, let me ask you have you ever lied. If you have, you have broken one of the Ten Commandments. Jesus said if we've looked at someone with lust, we have committed adultery in our hearts.
Romans 3:23 (NLT)
23 For everyone has sinned; we all fall short of God's glorious standard.
2. The penalty. Sin is an affront to a perfectly holy God. We can't approach God. We are separated from God by a great gulf. It's like we are on one side about to fall off the cliff, and God is far away and we can't get to Him because we are sinners. The penalty for sin is death. Sure it includes physical death because of original sin, but it's not really what is depicted here. It's eternal death in the eternal fires of Hell.
Romans 6:23 (NLT)
23 For the wages of sin is death….
3. The remedy. But God loved humanity so much. The Bible states that God loved the whole of humanity so much that He gave His only begotten Son to die in the place of every person. Sin demands death, and Jesus Christ willingly in the eternal plan of God offered Himself as the substitute to take our place and die for us.
Romans 5:8 (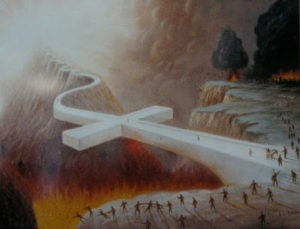 NLT)
8 But God showed his great love for us by sending Christ to die for us while we were still sinners.
On the cross, God demonstrated how much He loves us. What love! What grace!
4. The response. The rest is up to us. Jesus died for every person who ever came into this world because we are all sinners. However, only those who accept Him as Lord and Savior and believe upon Him will have eternal life. When we respond by putting our faith in Him and committing our lives to Him, we are saved. We are forgiven. We become children of God.
Romans 10:9-10 (NLT)
9 If you confess with your mouth that Jesus is Lord and believe in your heart that God raised him from the dead, you will be saved. 10 For it is by believing in your heart that you are made right with God, and it is by confessing with your mouth that you are saved.
So, would you like to accept Him and make Him your Savior right now? If so, repeat these words: "God in Heaven, I know that I am a sinner. I have failed you so many times. I've tried it my way but I find that good works and my efforts don't bring me peace. I realize that You made the way for me. You loved me and sent Your Son to die in my place. I ask You to forgive me of all my sins. Please come into my heart as I commit my life to serve You from this time forth. In Jesus' Name, Amen.
You are now a follower of Jesus Christ. You are a part of the universal church, the family of God, and there are some steps you need to take.
1. Get a Bible such as the New Living Translation and begin reading with the Gospel of John.
2. Start setting aside some time each day, begin with 15 minutes, to pray and talk with God.
3. Find a good Bible teaching church that has an intentional plan to grow new believers to maturity. You need a church, a family of believers, to help you in walking with Christ.
4. Be baptized in water. It tells the world that you belong to Jesus and indicates you belong to the family of God.
5. Tell others about what has happened in your life and how they can know Jesus also.